Resurrection Fight Night – Review / Write up
After the weekend settled its now time to reflect on The Resurrection fight night and first show Eclipse Kickboxing has promoted for over six years which totally lived up to the name Resurrection! With coaches applauding the quality of professionalism, fairness on results and hospitality plus how we got the show wrapped up in good time!  All though results for the Eclipse Team didn't go the way we liked what we can be proud about is the opposition we faced and the performances we put in!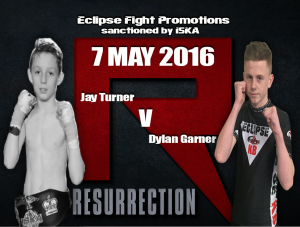 Starting the show was two young lads that defiantly will be at the top of the sport in many years to come, Dylan Garner vs Jay Turner, very evenly matched with Dylan applying very direct pressure and Jay using good stakes and movement skills to win the fight.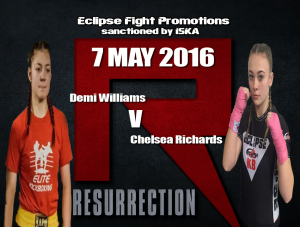 Up next was debut day for Chelsea Richards of Eclipse against an experienced girl in Demi Williams both girls giving it there all in a back and fourth contest but still remaining a technical encounter. The fight finished a majority draw with to judges giving it a draw and 1 judge scoring Chelsea a winner!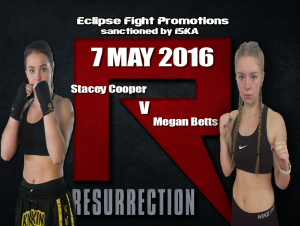 To follow on from that was Megan Betts vs Stacey Cooper, Megan was due to have a rematch with Anna Parker for the midland belt but through injury Stacey stepped in! This was the best performance Megan betts has ever displayed confident precise and aggressive, had Megan feeling she had won but the decision going the other way to the lady from London, either way the fight produced excitement and they'll sure to do it again!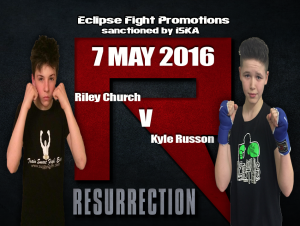 Up next was Kyle Russon vs Riley Church both very good lads and know doubt they will be headlining shows and competing at the highest leave in years to come! Kyle displayed a fight of the Night performance showing confidence maturity and a unfazed attitude towards a very good opponent in Riley church from NMA!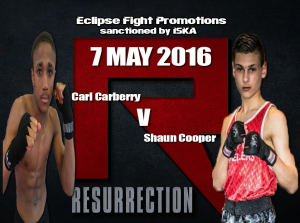 In between the Eclipse fighters we had Sean Cooper from Elite Kickboxing  vs Carl Carberry from BKA in a fight that went to a majority points decision all though Carl took on a more experienced lad who clearly had more experience than we had been told, gave a good account of himself and will be proud of his performance!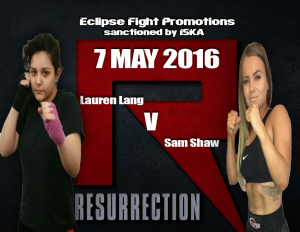 We had Sam Shaw from Eclipse take on very experienced on the light continuous seen Lauren Lang from USKA,  thank you to Neil and Lauren for stepping in with 3 days notice to secure Sam a fight with her original opponent having to pull out! The fight was a tough battle from round 1 to 3 with Lauren taking the decision with scoring a little more cleaner work! Well done to both girls
The fights to follow on from what already was a exciting card produced more of the same with good close match up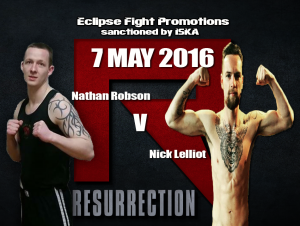 Nathan Robson from Black Cobra  vs Nick Lelliott from HKA, the fight been stopped in the second round with Nathan winning by stoppage!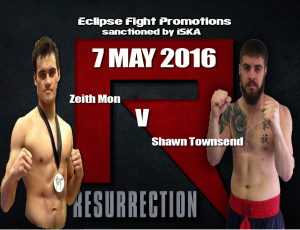 Zeith Mom from Unique Gym vs Shaun  Townsend from MSD was a good match up in the early parts of the rounds but as the fight went on Zeith just showed a little more composure to take the fight by unanimous Win!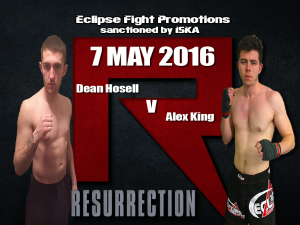 Up next was Alex King from Eclipse kickboxing with a very tough and game lad in Dean Hosell from school of black belts! With what was billed before the fight as a true war definite loved up to its expectation with Alex leaving everything in the ring and trying to out gun his opponent however Dean wasted no energy and as the fight went on capitalised on Alex's fitness and used cleaner work to win the fight!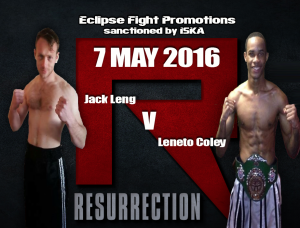 Leneto Coley (Saxons) vs Jack Leng (MSD) was up next with yet again another great match up Lenny getting the win by unanimous points win!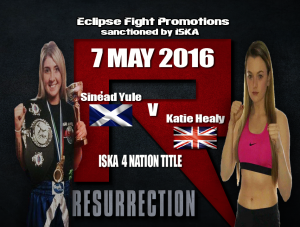 Now it was time for the title fights to begin to finish off what was already was a great night of Kickboxing!
The Four Nations Title
Katie Healey vs Sinéad Shady Yule
Both girls came to the ring with confidence and believe they was the best that night! The fight was explosive to say the least a very fast pace set from the off set both girls scoring very clean work Katie picking her opponent off well in two's and three's and Sinéad having bursting flurries. We felt Katie was winning the fight with her movement and how she picked Sinéad off but we just wanted that final kick to secure her work! Sinéad worked none stop and pushed Katie back showing more the aggression with her work! A very close fight ending in a split decision win for the Scottish team and for the new four nations champion Sinéad shady Yule!
On to the K-1  European title fight between Ferial Felix of Ireland vs Andree Warbrick of England
From the outset it was clear the game plan Felix was going to impose on Andre attacking her legs from the first bell, Andree remained tough as ever and continuously tried to hurt her opponent with Heavy handed shots and try to take her lady out with a boxing approach! The kicks to Andree's legs however took a toll on her leg and although she continued to push forward the referee had to step in and finish the fight in the third round awarding the European Professional K-1 title to Ferial Felix.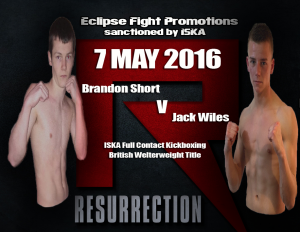 To top of the bill was a exciting fight on paper between to local lads, this sold the ticket for the show on its own!
Jack Wiles from Eclipse Kickboxing took on very talented Brandon Short of Saxons Kickboxing! Brandon being a lot more experienced than jack didn't faze this young warrior he was determined to upset the odds! The fight was stopped on the first round with a head kick that I don't think anyone would have got up from, Jack got up and contained himself, however he never recovered from the first shot! Wiles immediate response was let me fight him again showing just how much of a true warrior he is! Well done to the new I.S.K.A British champion Brandon Short
The show was a massive success and lived up to its billing of Resurrection, every one left feeling the decisions and matches and level of opposition were fare, this is how Kickboxing should be thank you to every one who supported the show without you there is no show! Thank you to all clubs that came down with their fighters! Also a big thank you to all people who helped the show run  smoothly the ladies on the door the runners time keepers and staff at Diamond Banqueting Suite!